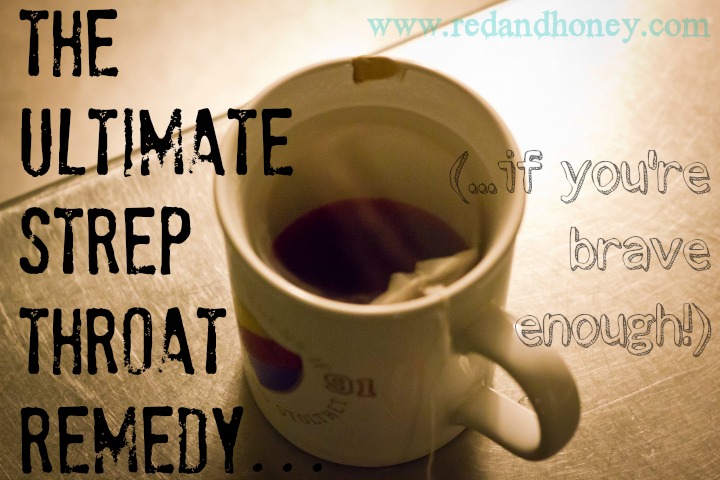 When I was pregnant with my daughter (who is now 3), I got strep throat.
It was awful. If you've ever had strep, you know the horrid knives-in-your-throat feeling I'm referring to. Ugh. I shudder just to think about it again.
I do my best to avoid antibiotics quite stringently. Being pregnant, that desire was especially strong. However, strep is a bacterial infection. Many people believe that bacterial infections will only respond to pharmaceutical antibiotics. From personal experience, I'm gonna have to disagree. Here's how it went down…
It was a holiday weekend. In Tiny Town. The doctor saw me late Friday afternoon and took a swab to send to the lab for testing. He gave me a prescription just in case, though, because I wouldn't be able to get the results until Tuesday, when they opened again.
I went home without filling the prescription. I told myself I would get it if I was feeling desperate, but I'd try googling for ideas first. I found tons of sore throat remedy ideas online. Most involved things like lemon and honey, etc. One of the suggestions involved a crazy ingredient: cayenne pepper. I decided to make my own concoction, and give it a whirl.
I developed this recipe that day, and have tweaked and perfected it in the couple of sore throats I've had since that time.
So, does it work?
Well, I gargled every 15 minutes for about 2 hours that evening. There was noticeable improvement after the first couple of times. I could swallow without tears coming to my eyes. Then, I felt about 75% healed by the next morning, and I felt no more pain at all 24 hours later. By the end of the weekend, I was back to normal, and just taking it a bit easy to allow my body to catch up.
The throat swab came back from the lab on Tuesday. It was a confirmed case of strep throat. And I healed it using the craziest cayenne pepper concoction ever! Natural remedies for the win!
(By the way, if you have a more minor sore throat – i.e. not strep – I'd advise trying gargling with good ol' salt and water. Sometimes that does the trick just fine!)